SOLUTIONS FOR VISUAL COMMUNICATION
VISIONS are RGB indoor and outdoor display of various sizes and configurations suitable for displaying both text and video.
The versions provided are:
VISIOCOM for information to citizens, viability and weather;
VISIOLAB for use in shops, productive areas with multitext applications;
VISIOMED to project video as advertised as it does.
VISIOCOM is a very important tool for municipal administrations and local authorities as it allows to communicate in real time with citizens.


With VISIOCOM, administrators can either send general communications such as traffic, press agencies, and events, and send timely updates to weather and related updates.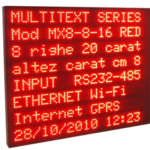 VISIOLAB: Multiline display for industrial process monitoring or to send publicity information. It is possible to choose between different configurations and sizes to better adapt to the environment in which they are to be installed.
VISIOMED: Large-format LED display designed tailor-made for outdoor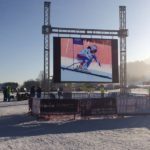 viewing of sporting events such as billboards, outdoor events etc.. They can
be used in Public Parks, Public Roads, Advertising Signs, Sports Centers, LED
Advertising Systems for Sports Fields.